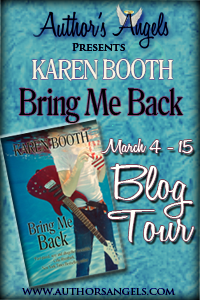 ---
We are happy to have Author
Karen Booth
with us today!!
---
Bring Me Back

by
Karen Booth

Music critic Claire Abby is a single mom dreading her daughter's departure for college and worried that turning forty will leave her career running on fumes. She's floored when she lands a Rolling Stone cover story on 80s British rock legend Christopher Penman. She spent her teenage years fantasizing he was her boyfriend.

In person, Christopher is everything Claire feared he'd be—charming, witty and unwilling to address the rumors he's dodged for a decade. Still, she contains her adolescent fantasies and manages to earn his trust, unearthing the truth and the devastating secret behind it. His blockbuster story is her first priority when she returns home, a nearly impossible task when Christopher starts calling and flirting. She knows she should maintain a professional distance. She knows she should focus on the story. She knows it would be best to simply walk away. But how can she say "no" to the man she could never forget?
---
What is it that makes rock stars so darn sexy and irresistible?
People often ask why I have a fixation on rock stars. People. Please. I wouldn't call it a fixation. Just because I blog about rock stars and have centered several books around them doesn't mean I have a fixation. I am capable of writing about other people. I just happen to have a certain fondness for musicians.
I have always loved music with great enthusiasm. I own thousands of CDs, weeks, possibly months, worth of music. My love of music at one point landed me in the music industry, working at two different indie record labels with a stint as a booking agent sandwiched in between. I have spent an unimaginable number of nights in rock clubs, sucking down beer and enjoying every second of it. I have also, sadly, spent unimaginable amounts of time listening to bad music, performed by people who don't have "it".
So, let's talk about the myth of the "rock star". I've met my fair share, from the medium famous to the super famous (some only famous in their own mind), and there is one universal truth among them—they were born that way. There's nothing to be learned. They did not suddenly become good at walking on stage every night and commanding attention. They were born with it and they live it 24-7, 365 days a year, not even five minutes off to take a breather.
One of my best rock star friends (a real rock star, on the cover of countless magazines, movie star ex-wife) is always "on". There is no off-stage version of him. The world is his venue and he squeezes everything he can out of it—singing non-stop, dancing around, cracking jokes and mixing drinks. You want to know how so many rock stars stay skinny? It's not drugs (well, in some instances it is, but not always). It's being "on" all the time, no exceptions. It's exhausting.
Even one of my not-so-famous rock star friends is just so rock 'n' roll that he can't help it. Doesn't matter that he's had a music career that never went anywhere. He will still show up at your house in his hot-shit car, unannounced, wearing black tuxedo pants, a mostly unbuttoned shirt and bare feet, toting a bottle of champagne. (Yes, that really happened.)
So, that's what intrigues me about rock stars. To me, they are living, breathing, mythical creatures. I don't need a vampire or werewolf—give me a real live rock star because as far as I'm concerned they are just as hard to come by. And that's why I create them. How? I don't have a prescribed method, but I think I can break it down if I look at the ones I have managed to cook up in my head. By the way, we are talking rock star heroes for the purpose of this exercise. I have yet to write a female rock star, but I will. I just haven't gotten around to it.
First you must have a totally self-assured and commanding persona. A rock star walks into the room and everyone's head turns. If they ever have moments of insecurity, those are squashed down and ignored or whisked away with a self-deprecating quip.
That brings me to quality number two: they must be witty and clever, able to use words well. Nobody wants to fall in love with a dumb rock star. Those are the guys you sleep with one time and sneak out in the middle of the night. (Not me! I'm just talking hypothetically.)
They must have artistic qualities that are always in play. Women go bonkers for this. There's nothing more devastating than a guy who's in touch with his emotions enough to write a song about it. If he writes the song about the woman he loves? Forget about it. That's all she wrote.
There must be some degree of physical perfection, but I try to keep from going too nuts with this one. A too-handsome rock star isn't totally believable, like John Stamos playing piano on "Full House". I don't buy it. He has to have something wrong with him—an adorable bend in his nose, or knobby knees, or a stubborn cowlick.
He can't be a total jerk. I know there are lots of "bad boy" rock star books out there, but I want to know there's a sweetheart under the rough and tumble exterior. He can have baggage and a troubled past and questionable decision-making, but in the end, he must be lovable and irresistible and just too yummy to let go. Only a crazy woman would walk away from that.
---
Grab your copy of BRING ME BACK here...
Amazon
/ Barnes & Noble
---

Comment to win your digital choice from Karen's Backlist!!
---
Tour Schedule
3/4/13
Mrs Condit & Friends Read Books
Talk Supe
Stitch Read Cook
3/5/13
Hesperia Loves Books
AJ's Reading Nook
Lori's Book Blog
3/6/13
Smardy Pants Book Blog
.
Musings From An Addicted Reader
A Little Fiction of Every Flavour
3/7/13
Heart Braking Reviews
Cocktails and Books
Melinda Doizer Contemporary Romance Author
3/8/13
My Fiction Nook
Black Raven Erotic Cafe
Scorching Book Reviews
3/11/13
Sultry Storyteller
Read Your Writes Book Reviews
3/12/13
Queen of the Night Reviews
Scandalicious Book Reviews
3/13/13
Manic Readers Guest Author Blog
Harlie's Books
Bookworm Brandee
3/14/13
Brunette Librarian
StoreyBook Reviews
Simply Ali
3/15/13
Love Romance Passion
Tina's Book Reviews
Guilty Pleasures Book Reviews
Follow the tour to increase your chances of winning!!
---
---