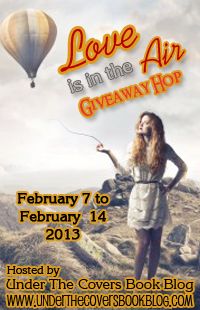 ---
We LOVE, LOVE here at
Simply Ali
that is why we are going to be celebrating the month of Love as much as possible. So here we are with our second Valentine themed HOP of the month :)
We are excited to be participating in
Under the Covers Book Blog's
LOVE IS IN THE AIR HOP!!
---
I would like to say a huge thank you to our bestie Joy for helping with today's post. I was drawing a blank and asked for her expertise in looking for some romances perfect for Valentine's Day!
Let's take a look at her recommendations...

Let Me Call You Sweetheart (Come Rain or Come Shine)

by
Gwen Hayes

Hollywood made him a star. She makes him want to be a better man.

A Come Rain or Come Shine story

Charlotte Jeeves, "Charlie" to anyone not pulling her over or collecting her taxes, is the only one in town who's not excited about her new neighbor, TV actor Jeeves Allencaster. It's not "cute" how they share a name, and so not charming that he steals her muffin before they've even met. The last thing she wants is some slick Hollywood type turning her safe, small-town haven into a circus.

If the locals have their way, though, she and Jeeves will be dating by…well, it depends on who you ask—and how much they've invested in the betting pool.

Jeeves hates Hollwood. Mostly he just hates the way it's changed him. Port Grable is the total opposite of LaLa Land—the perfect place to rediscover himself. His plan didn't include hooking up with the bitter—yet undeniably lush—girl next door. She's not his type, yet he can't get her off his mind.

Trouble is, to thaw the ice around her heart, he'll have to show her the real man behind the Hollywood charade. If he still exists…

Product Warnings
Baked-good larceny is prohibited by law in many states. Please seek competent legal advice before trying this at home.
---
No Greater Loss

by
Diane Craver

Can a new love heal a wounded heart?

Dr. Jennifer Hunter is so stunned by her past that she's unable to move on with her life. After losing her young husband and baby son fifteen years ago she's determined never to marry again. Losing loved ones is just too painful.

A friend introduces Jennifer to Luke Brunsman and suggests she hire him to renovate her antique farmhouse. Instantly attracted to Luke, she refuses the widowed contractor's help. But after she gets injured working on a fireplace, she gives in.

Luke clearly wants more than a business relationship, and Jennifer guards her heart. His kisses make her yearn for a future once denied her. Luke falls in love with her but finds tearing down the walls in Jennifer's house is easier than breaking through her protective shell.

When Dr. Hunter's radio talk show catches the attention of a vengeful arsonist, Luke and Jennifer must overcome the shadows of the past and find the courage to love again.
---
The Groom Wanted Seconds (A Novella) (Sweet and Savory Romances)

by
Shirley Jump

Nothing like a little breakup to remind a man why he loves a woman and what an idiot he's been. After a clunky marriage proposal, Rebecca Wilson breaks up with Jeremy Hamilton, an engineer lacking a romance chromosome. She goes away for the summer and thinks she has found true love. When she returns with a broken heart, Jeremy seizes the opportunity to convince her to give him a second chance.

But it isn't until he brings out his wild and fun side that Jeremy sees a dim flicker of hope for a future with Rebecca. His determination drives Rebecca to break into her secret cookie stash, hoping Thin Mints can make her forget Mr. Wrong. She's already been burned twice before—is she ready to take a second chance on love?

The Sweet and Savory Romances will make you laugh, cry, and rev up your appetite with their hunky heroes. As a special addition, satiate your hunger—for food that is— with tried-and-true recipes written by the characters inside.
---
After the Storm (Harlequin Superromance)

by
Amy Knupp

With a hurricane heading for the Texas coast, Nadia Hamlin needs to evacuate. Now. Before she can leave, however, there's one more thing she has to do—despite the risk. But that delay lands her trapped in her car in the middle of the storm. Fortunately, firefighter Penn Griffin arrives. Unfortunately, her good-looking rescuer suffers a career-ending injury in the process.

The only way Nadia can think to make amends is to help Penn get back on his feet. Even if he doesn't want anything to do with her, she won't give up. Her determination has an unexpected impact. Because soon he can't seem to get enough of her.
---

Ali is giving one lucky reader a $15 Gift Card

Leave a comment below to enter.

Gain extra entries by following via GFC, Email, Twitter or Facebook!

Contest is open internationally. Come back on Sunday the 17th to see if you won!!