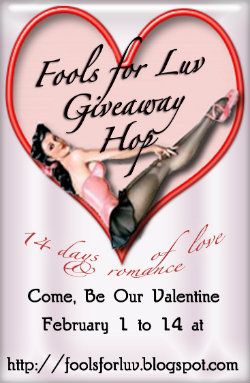 ---
We are excited to be taking part in
Steph at Fangs, Wands and Fairy Dust And Dana at Readaholics Anonymous
Fools For Luv Hop!!
---
Okay so let's be honest we're all romance readers here I think it's safe to say we are all
Fools For Luv!
A good romance makes us all go weak in the knees whether it is a sweet contemporary, mystery, sexy suspense or a downright naughty erotic romance. Personally I(Miranda) am a huge sucker for a great romantic suspense! When I began thinking about what book or series makes me go gaga right now one stuck out...
Julie Ann Walker's
Black Knights Inc Series!
from book one I have fallen in love with this series! I recently received Book 4 in the series Thrill Ride for review. I started it last night and I am absolutely dying to finish it but unfortunately there is this thing called work and it has kept me from the book all day...dang it work! Walker mixes suspense and romance like a master! I'm utterly in love with this series and just have to share it with you all! So here we go let's take a look at Book 1
Hell on Wheels: Black Knights Inc.

by
Julie Ann Walker

Black Knights, Inc, Book 1

Sourcebooks

Black Knights Inc.—Behind the facade of their tricked–out motorcycle shop is an elite special ops team assigned the jobs too hot for anyone else to handle.

Hold On Tight...

Ex–Marine Nate "Ghost" Weller is an expert at keeping his cool—and his distance—which makes him one hell of a sniper. It's also how he keeps his feelings for Ali Morgan in check. Sweet, sexy Ali has always revved his engine, but she's his best friend's baby sister...and totally off limits.

Rough Road Ahead

Ali's never seen anything sexier than Nate Weller straddling his custom Harley—or the flash of danger in his eyes when she tells him she's in trouble. First something happened to her brother, and now she's become the target of a nasty international organization. With Nate, her life is in the most capable hands possible—but her heart is another story altogether.

**A Joyfully Reviewed Recommended Read**
---
In Rides Trouble: Black Knights Inc.

by
Julie Ann Walker

Black Knights, Inc, Book 2

Sourcebooks

Rebel with a Cause

Becky "Rebel" Reichert never actually goes looking for trouble. It just has a tendency to find her. Like the day Frank Knight showed up at her door, wanting to use her motorcycle shop as a cover for his elite special ops team. But Becky prides herself on being able to hang with the big boys-she can weld, drive, and shoot just as well as any of them.

Man with a Mission

Munitions, missiles, and mayhem are Frank's way of life. The last thing the ex-SEAL wants is for one brash blonde to come within fifty feet of anything that goes boom. Yet it's just his rotten luck when she ends up in a hostage situation at sea. Come hell or high water, he will get her back-whether she says she needs him or not.

**In Rides Trouble rocks the reader with more high-speed action and high-impact emotions. ~Miranda, Joyfully Reviewed
---
Rev It Up: Black Knights Inc.

by
Julie Ann Walker

Black Knights, Inc, Book 3

Sourcebooks

He Never Misses A Target

Jake "the Snake" Sommers earned his SEAL code name by striking quickly and quietly-and with lethal force. That's also how he broke Michelle Carter's heart. It was the only way to keep her safe-from himself. Four long years later, Jake is determined to get a second chance. But to steal back into Michelle's loving arms, Jake is going to have to prove he can take things slow. Real slow...

She Aims To Make Him Beg

Michelle Carter has never forgiven Jake for being so cliché as to "love her and leave her." But when her brother, head of the Black Knights elite ops agency, ticks off the wrong mobster, she must do the unimaginable: place her life in Jake's hands. No matter what they call him, this man is far from cold-blooded. And once he's wrapped around her heat, he'll never let her go...

**Rev It Up will kick you into high gear and have you speeding across the finish line. ~Miranda, Joyfully Reviewed
---
**COMING IN APRIL**
Thrill Ride (Black Knights Inc.)

by
Julie Ann Walker

Black Knights, Inc, Book 4

Sourcebooks

HE'S GONE ROGUE

Ex-Navy SEAL Rock Babineaux's job is to get information, and he's one of the best in the business. Until something goes horribly wrong and he's being hunted by his own government. Even his best friends at the covert special-ops organization Black Knights Inc. aren't sure they can trust him. He thinks he can outrun them all, but his former partner—a curvy bombshell who knows just how to drive him wild—refuses to cut him loose.

SHE WON'T BACK DOWN

Vanessa Cordera hasn't been the team's communication specialist very long, but she knows how to read people-no way is Rock guilty of murder. And she'll go to hell and back to help him prove it. Sure, the sexy Cajun has his secrets, but there's no one in the world she'd rather have by her side in a tight spot. Which is good, because they're about to get very tight…
---

Are you a Fool For Luv? Tell us your favorite go to romance and be entered to #WIN a $20 Amazon Gift Card!!
a Rafflecopter giveaway
Open Internationally
Come back on Sunday, February 17th to see if you won :)
---
Be sure to check out the other stops on the hop

---