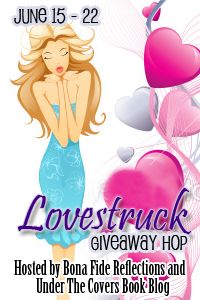 Simply Ali is excited to participate in the LoveStruck Giveaway Hop Hosted by Bona Fide Reflections and Under The Covers Book Blog!
If you were to ask me who my favorite hero is, more than likely, the first hero to come to mind would be Gage Travis from Sugar Daddy by Lisa Kleypas. *sigh*
You see, I'm not one to remember lines from books or movies... But, there is a line from Sugar Daddy that I have quoted to all readers I've talked to about the book.
I don't want to spoil anything for those who haven't read it, but I will share my favorite line. It's when Gage tells Liberty, "I'd do almost anything for you. I think I'd kill for you. But I'm not going to comfort you while you cry in my arms over another man."
You see, it's not that he has killed for her... this is a contemporary romance, not romantic suspense, hehe... but, he would. He just loves her *that* much. *sigh*
It was *that* line that had me fall even harder for Gage. And, it's because of my love for Gage that I can't move on and read the other two books in the trilogy, lol. I've been told that the other books are just as great, but I can't bring myself to read them. Gage is such a wonderful hero that he's ruined me for the following two books, lol.
During this blog hop, I want to share my love for Gage and offer one reader a copy of


Sugar Daddy
by Lisa Kleypas
and a
$10 Amazon Gift Card!

This giveaway is open internationally. Leave a comment below to be entered. You have until June 22 @ Midnight to enter.
Check out the other hop participants...